Introduction of Cartridge Filter Dust Collector
Cartridge filter is one kind of dust-removal equipment which is made up of several cartridge filters and adopts pulse back flushing. They are sideways installed cartridge filter dust collector, endways installed cartridge filter dust collector, ceiling mounted cartridge filter dust collector and top mounted cartridge filter dust collector. The filter who use filter cartridge as filter element. On the basis application of pulse bag filter, it is the new product for the air dust and industrial powder (smoke) dust removal. With its high air volume (not less than 99.5%, the low pressure 0.2 - 0.6 Mpa), if better operation parameters low resistance loss (800 - 1000 Pa) will be favored by users. The cartridge filter has the advanced technology, compact structure, emission standard, covers an area of less, low investment and low operating cost marked.
Structure of Cartridge Filter Dust Collector
Mainly consists of three parts: cartridge filter, cabinet and ash removal mechanism.
(1) Filter cartridge composed of outer layer, inner layer and the middle layer. Inner layer and outer layer are covered metal mesh (or hard plastic net). The middle layer is the fold type filter material. Cartridge filter characteristics is the filter material, put a layer of sub-micron ultra-thin fiber stick attached to the general filter material, the fibers on the adhesion layer are very close together, its clearance 0.12 - 0.6um. Due to the intensive folding and greatly increase the filter area, it has large area outstanding characteristic of filter cartridge.
(2) The cabinet is the shell of the dust collector, including the gas tank and ash hopper. Gas tank mainly provide the required cleaning space. It conducive to the reasonable distribution of flow field. The ash hopper is filtered to collect material.
(3) Ash removal mechanism mainly includes the blowpipe, pulse valve, air bags, etc. When the dust of filter cartridge surface reaches a certain thickness, it will be dusted. The dust air through filter cartridge, and then discharged. When the filter resistance to the differential value or time setting, it will controlled by differential pressure gauge or gain control instrument between the corresponding electromagnetic valve. The pulse valve in the closed state, compressed air blowing the filter cartridge to pulse ash removal.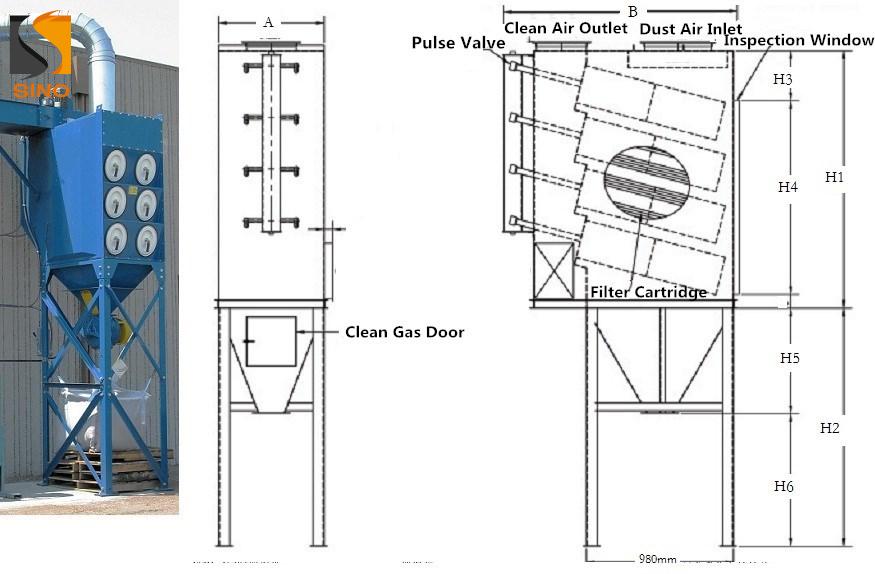 Working principle
1.These air valves deliver momentary burst or pulse of high compressed air through the manifold pipe into the filter tube. This push of air creates reverse flow of air, which expands these filter cartridges to remove the collector dust.
2.The cleaning procedure occurs on a row by row basis ,therefore only a fraction of cartridges are interrupted for cleaning which makes sure of continuous ventilation.
3.The dust cake when pulsed from the filter cartridges falls directly into the bucket at the bottom where it is removed.
4.An exhaust fan is suitable for air volume 1000 cubic feet per minute and is mounted on the top of dust collector, which generates the negative draft throughout the process.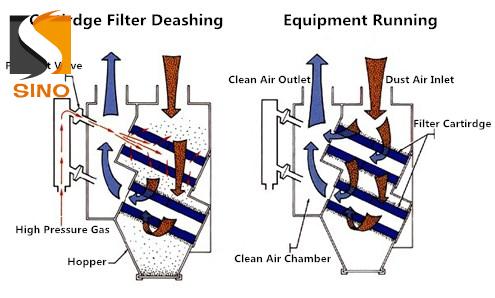 Features of Cartridge Filter Dust Collector
The complete installation is designed to occupy a minimum amount of floor space and overhead room.
It can be assembled on site without any requirement of the expertise manpower.
The units are fully welded construction. It has no moving part, which guarantees a long life.
Low investment and low operating cost marked.
Application Fields
1. The fume and smoke treatment and particle removing system in metallurgy plant, alloy plant, steel works, fire-retardant factories and power stations.
2. Fume filtration, tiny particle recycle and division of liquid and solid in aluminum electrolytic analysis, tin, zinc, cooper and other rare metals.
3. Smoke filtration in garbage burning, coal-feed boiler and liquidized laid boilers.
4. Division of liquid, solid and tiny particle recycle in chemicals, coke, carbon, dyestuff, pharmacy and plastics.
5. Asphalt concrete mixture, cements, ceramics, building materials, lime and plaster.
6. Dust treatment, purification and collection in electronics, mining, foodstuff processing, flour and timber processing.
Products Specifications